EHS Circle India is known as Center of Excellence in the field of Health, Safety & Environment.
Mock Drill is just a rehearsal without an actual fire.
Everyday we heard in news that due to fire many people died and property damage completely.
There is no substitute to emergency planning, only the best planning, periodical drill or rehearsal can prevent such type of disasters.
Forklift safety training is an essential component of workplace safety.
Forklifts are powerful machines that require specialized training to operate safely.
Without proper training, forklift operators can put themselves and others in danger.
It's crucial to provide comprehensive forklift safety training to all employees who operate these machines, including new hires, temporary employees, and contract workers.
Fire Safety Training is about ensuring that everyone knows what to do in an emergency situation. Fire is a major disaster in any organization. It can destroy everything including precious human lives. We have noticed various businesses completely shut down after one major fire incident. Therefore, Fire Safety Training for employees is the best investment.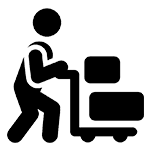 The main purpose of this training is to make employees aware about the hazards involved in Material Handling. Improper material handling is one of the major causes of work-related injuries. Every year thousands of injuries caused due to improper lifting & carrying of heavy loads.
Behavior based safety is a scientific approach that established relationship between management & employees & continually focuses people's attentions & theirs actions. It focuses on what people do, analyzes why they do it, and then do the research to improve their unsafe behaviors.
First Aid Training
First Aid is the primary or immediate support provide to any person who is either injured or suffering from illness with the intention to save his life or to prevent his condition from worsening.
Safe Work Practices Training
Safe work practices training enables employees to understand workplace hazards & their preventive methods. This Training plays vital role in accident prevention.
Road Safety Training
Road & Transport are integral part of our life, all of us are users of roads. Transport system reduces the distances but it has also increased the risk of life. Every year lakhs of people lost their lives in road accidents. Road Safety Training helps in understanding best techniques of safe driving
Fire Safety is very important for all Business Premises
Why you need to choose EHS CIRCLE INDIA
We provide you more than one reason to choose our services & products to make an impact on your life positively.
We are committed to give best EHS Services to our client with utmost satisfaction.

We have expertise in our field.

We provide complete EHS solutions.

We provide our services throughout PAN INDIA.

We offers you an exclusive range of Fire & Safety Products at very reasonable price.

We develop training modules as per client requirement.

We believe in fair dealing & honesty.

We believe in continual improvement in our services & products.

We have loyal team of skilled personnel to help you to choose the right product & service.

We are committed to clear all your doubts related to EHS until your satisfaction.
We've Been Training People for Over 10 years
Contact us today for Safety Training, Audit & Consultancy Services
Safe Work Practices Training At Gutermann
Road Safety Training at Glaxo Smith Kline
FIRE Safety & Emergency Response Training At Capetown School
BBS Training At SMC Noida
Safe Work Practices Training At Gutermann
First Aid Training at Roop Auto
Fire Fighting & ERT Training at Titan.